Ok - so maybe not quite like the wind - but we did do our best times yet!! Kyle and I completed our half marathon relay - and had so much fun participating! But the biggest surprise...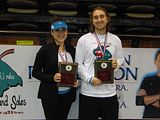 We won third place overall in the relays!!! Crazy right? (Oh - and if you're wondering, there were actually more than 3 relays - there were 6 to be exact so we did really have to beat a few people to get that snazzy plaque).
It was so amazing to see Brent, the babies and Mommom waiting (and grinning) patiently at the finish line. I ran the first leg of the relay which finished exactly at the half way point. Kyle was driven to the spot, and started from there and I was driven to the finish so they didn't actually get to see my run - but they were waiting just the same.
The babies did well. They were tired - a 7am start time meant we had to get up and going around 5am - that's early, even for the earliest of the early birds! David napped in my arms until his Uncle Kyle came through to the fancy finish line which was right inside the Civic Center!
The day was beautiful, the race, very organized with water stations set up every mile and countless volunteers directing traffic. It was truly a good time.
The route that I completed put me right in downtown. As I passed my pediatrician's office, elementary school, St. Matthew's church grounds, Scarlet Scoops where we used to get the very occasional ice cream cone, Lee's Education supply where, when we were *really* good, my mom would reward us with our choice of "wukbuks" (workbooks)...She used to let us do our letters, numbers, etc for 10 to 15 minutes per day - and the back of the books had stickers!!!(obviously, I thought the stickers were the coolest part!) The time limit always left us wanting to do more...After the education supply store, I grinned as I hit the half way point. It was cool - but not too cold, and sunny enough to be gorgeous, but not too hot. As I thought about coming around to the Civic Center again, my babes and husband waiting there, I knew I'd come full circle.
We did well, but most importantly, we had a boat load of fun out there!!
xo,
Heather